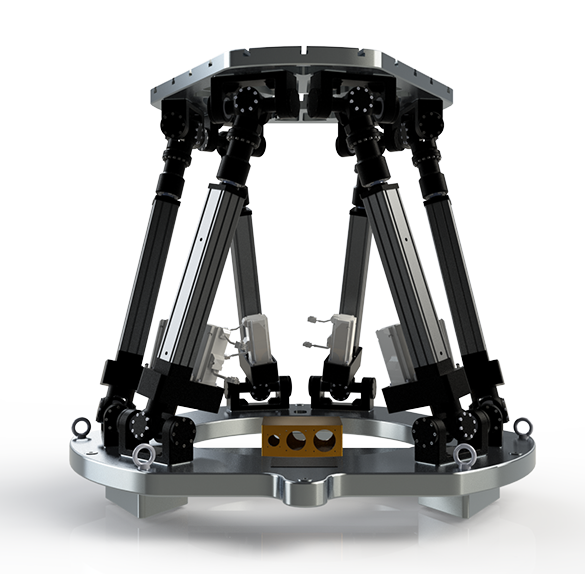 S6-V0-P0
High precision
High stability
Low cost
Introduce
The classic STEWART parallel mechanism can easily achieve 6-degree-of-freedom movement in space, and the load can reach 3000kg, which meets the pursuit of the highest precision and maximum load requirements. It is very suitable for high-precision test operations in laboratories, aerospace and other industries, and is mainly used for assembly and motion simulation of various materials.
Characteristic
1、The maximum load can reach 3000kg, meeting your pursuit for the maximum precision and maximum load.
2、Classic Stewart parallel mechanism, can easily realize 6-DOF movement in three-dimensional space.
3、The robot is ideal for high-precision test in laboratory and aerospace. Widely used in assembly, motion simulation of Various materials.
Consult
Support platform for heavy load capacity
Detailed product parameters
Model
Axes
Payload
Manipulator
Repeatability
Range of Axis
Power supply
Power capacity
Rated Power
Storage temperature
Work environment
Protection
S6-V0-P0
6
200kg
Weight
Maximum Speed
Position
Rotation
X-axis
Z-axis
X-Rot
Y-Rot
Z-Rot
Three-phase 380VAC -10%~+10%, 49~61HZ
10KVA
2.4kw
-10℃~70℃
0℃~50℃,RH≤80%
IP55
550kg
300mm/s
0.05mm
0.2º
±100mm
±75mm
±15º
±15º
±15º
01.Outline dimensions and Zero point (mm)

02.Outline dimensions and Zero point (mm)

03.Outline dimensions and Zero point (mm)